Laser Teeth Whitening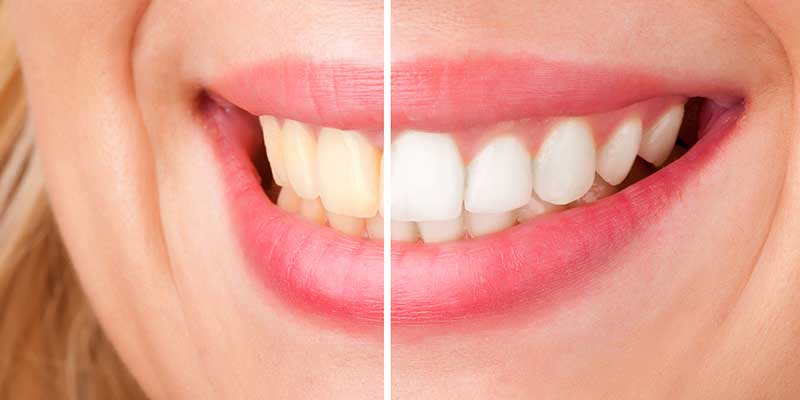 Are your teeth stained, yellow or not as white as you want them to be? You're not alone. Millions of people worldwide have whitened their teeth. We offer in-office tooth whitening with Zoom laser or custom-fit teeth whitening trays for at-home whitening. If you want a brighter, whiter smile, our friendly dentists in Milton at White Canvas Dentistry can help.
Tooth Whitening Options
Tooth whitening is a popular cosmetic dentistry service. It is the process of removing surface stains from teeth, also known as bleaching teeth, though bleach is not involved. Here are the various methods used for teeth whitening.
Drug store tooth whitening toothpaste used daily for some weeks until some whitening is achieved
Drugstore whitening strips worn for some time per day, over the course of a few weeks, until teeth reach the desired shade
Dentist made custom fit teeth whitening trays worn with professional strength teeth whitening gel daily until teeth are as white as you want them to be
In Office Laser teeth whitening, performed in a dental office by trained professionals by applying a tooth whitening agent and heat from a lamp or laser to quickly whiten teeth – usually in 60-90 minutes.
Zoom Laser Tooth Whitening in Milton ON
At White Canvas dentistry, we offer cosmetic dentistry, including Zoom Laser Whitening for fast and beautiful results.
We chose the Zoom whitening system to give you the best results. Zoom is used worldwide by leading dental clinics and produces consistent, long lasting tooth whitening results.
Because Zoom works so fast, we can whiten teeth several shades in a single visit, which is perfect before special photo opportunities such as vacations, weddings, job conferences, and so on. If heavy staining is present, additional visits may be required.
Talk to our wonderful dentists today to get your personalized tooth whitening plan.
Is tooth whitening permanent?
Tooth whitening is a semi-permanent treatment.
Our DNA and natural aging contribute to tooth color changes.
Our diet and beverage choices contribute to tooth staining. Commonly loved foods such as coffee, tea, wine, chocolate, and tomato sauce all contribute to tooth yellowing or staining.
Fortunately, tooth whitening can be safely repeated as needed to maintain a bright, white smile. Re-treatment can be performed as often as you wish. For some people, annual tooth whitening is desired, and for others, once every 3-5 years is often enough.
Schedule Your Consultation
Let White Canvas Dentistry help you achieve and maintain your desired shade of pearly whites.
Call our team of Milton dentists today to schedule your personal consultation.