Cosmetic Dental Veneers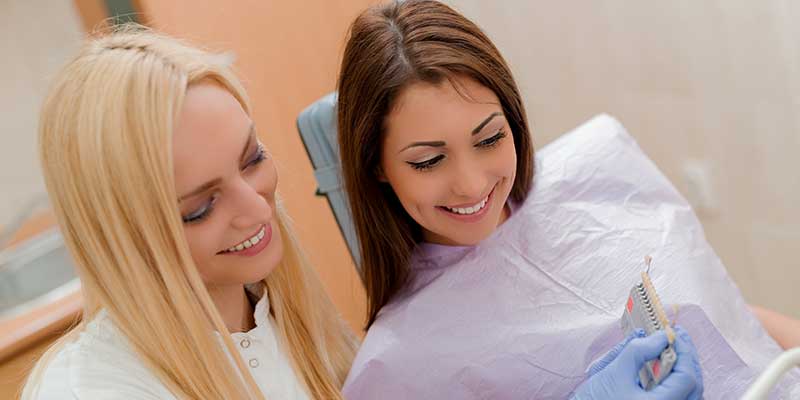 A great smile gets attention. If there is something about your smile that you don't love, talk to us about your options. We offer cosmetic dentistry in Milton ON, including dental veneers to reshape teeth, fix chipped teeth, cover discoloured teeth and more. Our professional team at White Canvas Dentistry will help you create your ideal smile.
What Are Dental Veneers?
Dental veneers are where the art and science of dentistry come together.
Dental veneers are usually hand crafted, made from multiple, ultra-thin, light weight layers of porcelain or composite resin to create custom tooth covers that can drastically change the appearance of a smile, including:
Tooth shape
Tooth size
Tooth colour
Tooth spacing
Overall smile appearance
Dental veneers can generally last 10-15 years, however, in some cases, they may chip or break and require replacement. Nevertheless, they are considered the ultimate in cosmetic dentistry treatment and are worthy of consideration in many cases.
During your smile makeover consultation with our wonderful team here at White Canvas Dentistry in Milton ON, we will ask you about your ideal smile, what you wish to change, and give you options for a smile makeover that may include dental veneers or crowns, Invisalign, implants or whitening.
You can opt for minor smile adjustments or a complete smile makeover.
It all starts with a personal consultation to explore your options. Call us today at (905) 875-3990.
To Expect During A Smile Makeover Consultation?
Most dental visits are oral health visits or restorative in nature.
It's now increasingly common to have a purely cosmetic dental consultation. Psychologists and researchers have demonstrated the importance of self-confidence in our social lives and careers, and if cosmetic dental treatment will help boost your self-confidence, then you owe it to yourself to explore your options. Our team is here to help.
Here are some questions to help you prepare for your smile makeover consultation.
Look at your smile. Make note of what you like and what you wish to change.
Look at your front four teeth, the ones that show the most when you talk or smile. Now consider, if you only changed those, would you be happy with your smile? If so, how would you want them changed?
Look at your back teeth, which are not often noticed when you talk or smile, and consider if you feel you want to make changes to them or leave them as is. If so, how would you want them changed?
Look at your gum line. Is this an area you wish to change? Do you feel your smile is too "gummy"? Do you feel your gums are too short or your teeth look too long? If you want to change your gumline, how would you like to see it changed?
Are you happy with the color of your teeth?
Are you happy with the size of your teeth?
Make some notes in response to the questions above and bring them to your consultation. We'll let you know what options are available to you.
Call White Canvas Dentistry today to schedule your cosmetic dentist consultation in Milton Ontario.