Invisalign Clear Braces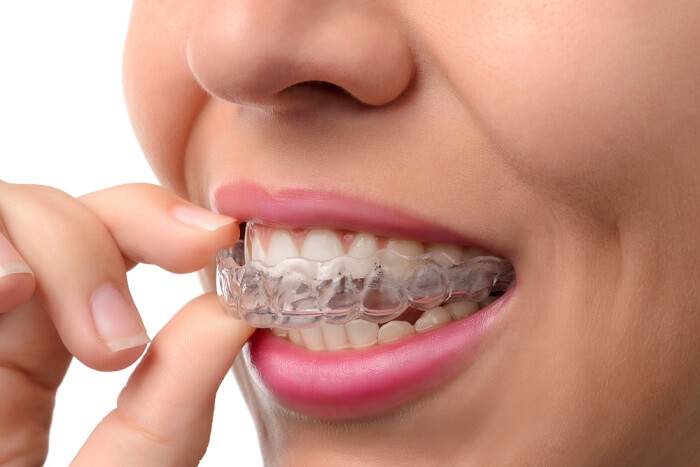 Millions of people have benefited from Invisalign worldwide – and you can too. Our Invisalign dentists in Milton ON at White Canvas Dentistry offer you invisible braces to correct orthodontic issues discreetly. Clear braces are perfect for teenagers and adults who qualify for this wonderful treatment method for fixing orthodontic problems.
Invisalign is an alternative to traditional metal braces. It can treat many of the same issues, but not all. Our dentists are trained in orthodontics and Invisalign and will gladly go over your options and devise the ideal treatment plan for you. Call us now at (905) 875-3990.
How Does Invisalign Work?
With traditional braces, wires and brackets are used to move teeth into their correct positions. With Invisalign, clear acrylic trays are used instead. These acrylic trays are known as aligners.
Your treatment will include a series of custom fit aligners. You will wear each aligner for a period of two weeks, and then move to the next aligner in your series. Each aligner applies gentle pressure to certain teeth to guide them in to the correct position.
The nice thing about clear braces is that they are removable. You wear your aligners for 22 hours per day – while at school, work, sleeping, playing sports or watching TV. You remove them to eat, brush and floss your teeth. The major benefit with removable braces over traditional fixed braces is how easy it is to keep your teeth clean during treatment.
Flossing around metal braces takes extra time and patience, and cavity causing bacteria loves to cling to the braces. These issues are eliminated with Invisalign. Good oral hygiene is always important, but even more so during orthodontic treatment, so it's great that clear braces don't impede it.
At certain points during treatment, you will have a check in with your dentist to ensure all is progressing well. At the end of treatment, we may place a retainer wire to keep your teeth in their new position long term.
Your beautiful smile is just a few short months away. It all begins with a visit to White Canvas Dentistry. Call to book your appointment now. (905) 875-3990.
Benefits Of Clear Removable Braces
The benefits of clear braces include:
Discreet- no one will know except your dentist
Removable for special events such as a wedding or job interview
 Custom fit, smooth and comfortable- no poking metal wires
Less in office appointments during treatment, so it fits your busy life
Very easy to clean
Very easy to brush and floss like normal during treatment
Enjoy all your favourite foods during treatment – no restrictions like traditional braces have
Covered by insurance just like regular braces
The most important benefit of clear braces is that more people will accept this corrective treatment, and this allows dentists to treat minor or moderate orthodontic issues, preventing more serious potential problems down the line.
Our missions here at White Canvas Dentistry is to help you keep your natural teeth for life, and to avoid unnecessary dental treatment. Invisalign can help.
Who Can Have Invisalign Treatment?
Most teenagers and adults with mild to moderate orthodontic problems (malocclusion) are candidates for Invisalign treatment. Recent x-rays, including a panoramic x-ray will be required to confirm your treatment plan. Contact us today to get started.
Schedule Your Invisalign Consultation
Meet your Milton Invisalign dentist in person at White Canvas Dentistry and get your treatment plan. Our friendly team is ready to answer your questions and make your appointment. Call us now at (905) 875-3990, or send us an email
Follow the Link below to see your smile transformation in seconds!
https://providerbio.invisalign.com/sv/493397